SKYWARN Radio Desk Operators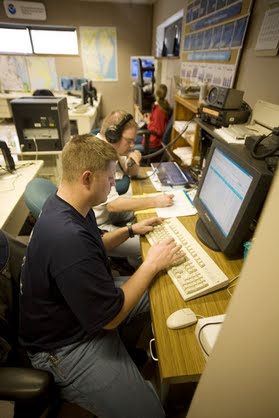 Our SKYWARN Desk Operators, also called Responders, operate the WX4AKQ amateur radio station inside the Wakefield Weather Forecast Office during particularly significant weather events such as widespread severe weather outbreaks and tropical weather systems.
Our Responders receive radio traffic from all across the 66-county Wakefield County Warning Area (CWA) and communicate with other offices via HF, APRS, and other technologies. They work directly with the Wakefield forecast team in the issuance and cancellation of warnings that impact over 3.3 million residents.
The WX4AKQ station consists of two Yaesu FT-2800M 2-meter radios, two Kenwood TM-441A UHF radios, a Kenwood TS-570D HF radio, and a Kantronics KPC-9610+ TNC. Several VHF/UHF antennas and an 80-meter G5RV are spread across two towers at the office.
Photo credit: KJ4HGN